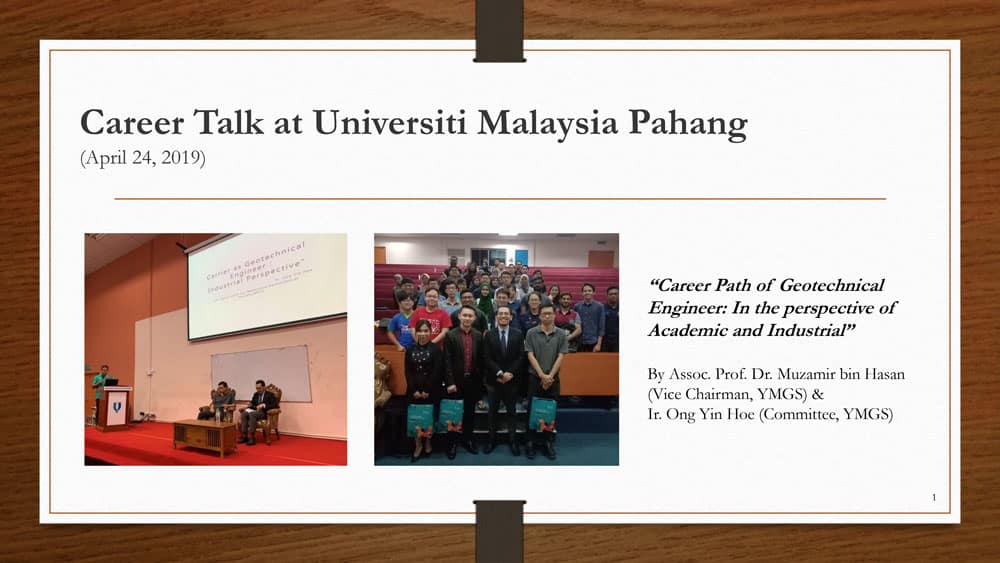 Career Talk at University Malaysia Pahang
"Career Path of Geotechnical Engineer: In the perspective of Academic and Industrial" by Assoc. Prof. Dr. Muzamir Bin Hasan & Ir. Ong Yin Hoe
The Youth Wing of Malaysian Geotechnical Society (YMGS) had recently organized a Career Talk at University Malaysia Pahang (UMP) and it was a collaboration with the Earth Resources & Sustainability Centre (ERAS), UMP.
The title of the career talk was ""Career Path of Geotechnical Engineer: In the perspective of Academic and Industrial" shared by Assoc. Prof. Dr. Muzamir Bin Hasan & Ir. Ong Yin Hoe. The event was successfully attracted more than 50 over students from 3rd year and final year of Civil Engineering Department.
The event started with the welcoming address from the ERAS representative and then followed by the topic by Assoc. Prof. Dr. Muzamir. Assoc. Prof. Dr. Muzamir shared his career path experience in the perspective of academic to the students in order to provide them an overview of the career progression as a geotechnical academician. He also explained how he became interested in the geotechnical engineering field during his early university days which he told he was fortunate to have a very good professor from Japan as his mentor. He then progressed on accordingly and contributed his knowledge to his students presently.
Contrasting to Assoc. Prof. Dr. Muzamir, Ir. Ong Yin Hoe shared about his career progression as a geotechnical engineer in the perspective of industrial. He explained the general disciplines related to the geotechnical engineering and at the same time he shared all his previous job scopes as a geotechnical consultant. He also encouraged the students to explore the opportunities in geotechnical engineering as our country needs more young geotechnical engineers to continue and improve the national geotechnical knowledge.
The event ended with the Question & Answer session where the students were participating actively.