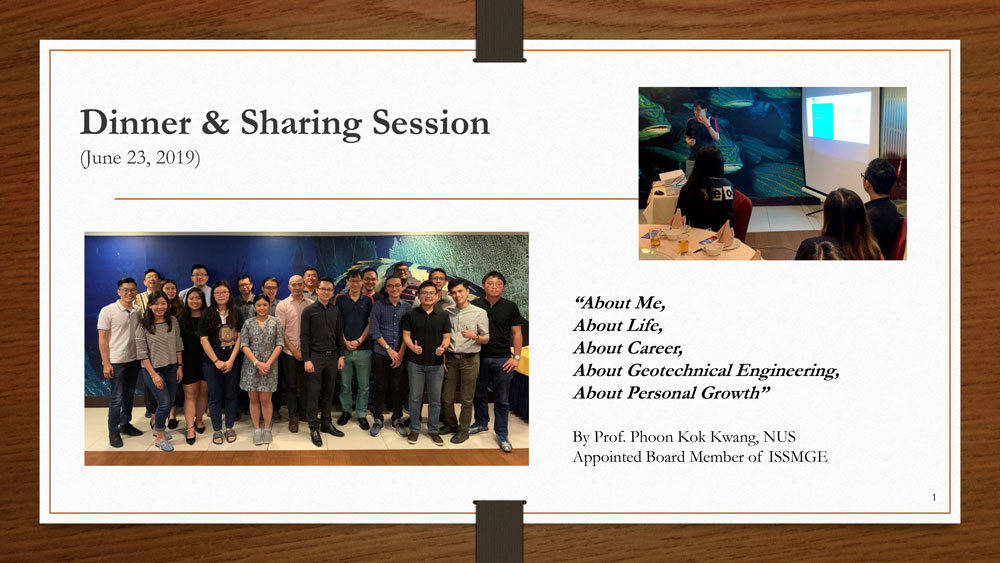 Dinner & Sharing Session Hosted by the Youth Wing of the Malaysian Geotechnical Society (YMGS): Prof. Phoon Kok Kwang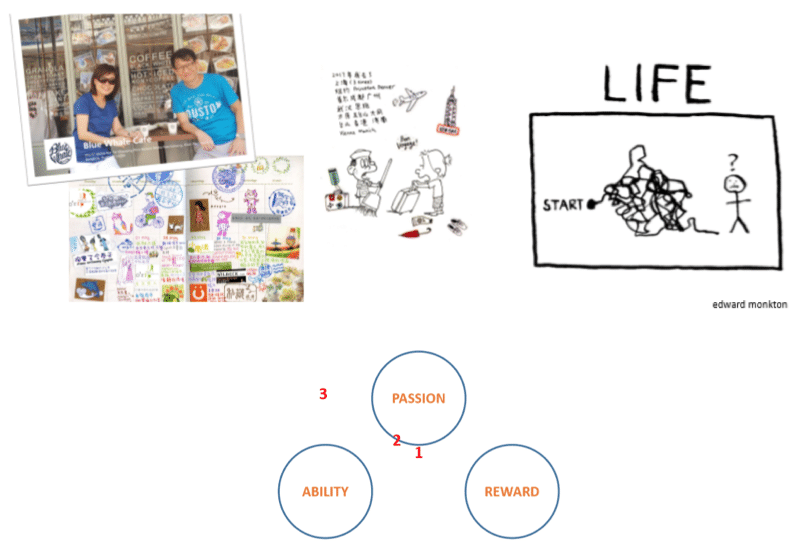 Figure 1: Prof. Phoon travelling with his wife in Bangkok, his journal & cartoon sketches; Figure 2: Edward Monkton's illustration on life; Figure 3: Something to do Venn diagram
Professor Phoon Kok Kwang did his BEng & MEng at NUS and furthered his studies by taking up a scholarship to do his PhD at Cornell University in New York. He describes himself as a geotechnical engineer, educator, researcher and academic leader – currently wearing the hat of Vice Provost at his alma mater, NUS. So far, he has given over a hundred lectures in over 80 cities. During his free time, he enjoys travelling, scrapbooking, journaling, cartooning and daydreaming.
His take on life is encapsulated in Edward Monkton's illustration shown above, which when put into words, is best described by Monkton's quote on life itself; "He knows not where he's going, For the ocean will decide, It's not the destination, It's the glory of the ride". In essence, there's not one predestined pathway in life, it's an adventure, and the journey matters more than the destination.
Regarding career, Prof. Phoon shared a quote by President Frank Rhodes that left a deep impact on him when he gave a lecture at Cornell University which states; "To have a successful life, we need to fulfil three needs which are; having something to do, someone to love and something to hope for." Something to do can be fulfilled from a job where you simply earn a living, a career which is built from a series of achievements or even better yet, a calling which is the ideal blending of activity and character that makes work inseparable from life. He advises everyone to find a job, career or calling that overlaps at least two portions of the Venn diagram shown above made up of ability, passion and reward.
On the topic of geotechnical engineering, Prof. Phoon also shared his personal opinion in which he told us to look forward towards advancements in this field especially in regards to sustainable engineering, resilience engineering and digital transformation. Disasters are seen as fast events. Resilience engineering can be defined as designing for the expected and unexpected, encompassing the emergent property/attribute that some systems have which allows them to withstand, respond and/or adapt to a vast range of disruptive events including ecological systems, physical systems (eg: structures designed against earthquake loading), complex systems (eg: supply chains with enhanced resilience) and human communities (eg: cities made resilient to flooding).  Digital geotechnics involve the gathering of information (eg: digital imaging of boreholes), communication (eg: combining geotechnical and structural models utilizing Hololens) to production (eg: increasing safety by using drone to capture images for preventive maintenance inspections of piling rigs). Infrastructure provides the basic means for moving & connecting goods, resources & people, in turn enabling economic growth & thriving communities. We must think not only about the physical asset but also its digital twin (all the associated data & information that this can reveal). It's imperative that this mental shift is made and to truly consider infrastructure as a service, delivering infrastructure based on outcomes for users, driving us towards whole life decisions & recognizing the value of the entire data estate. This is due to the fact that USD 18 trillion was transacted across mobile paying applications in China, 2018 alone.
Last but not least, Prof Phoon touched on the topic of personal growth, in which he encouraged the improvement and adoption of soft skills for example communication, deep skills for example research and many skills for example complexities and continuous learning. Moreover, he encouraged the creation of value – to be the next unicorn & decacorn such as Uber, Airbnb & Pinterest. Lastly, he urged the engineers of the Youth Wing of the Malaysian Geotechnical Society to never give up and to keep chasing our dreams.